Chorale Group 1956

  By Pat Prescod


Let's meet on earth before we leave for heaven.

This page was last updated on: July 11, 2017
Press rectangles on the left to start and stop the music.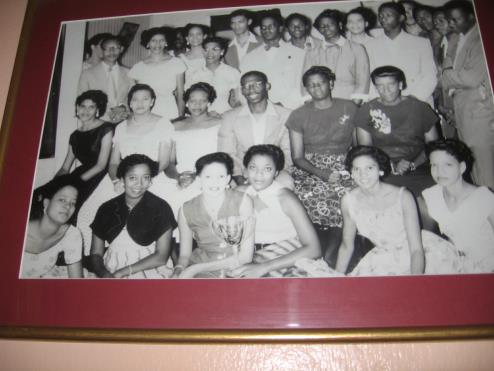 The Choral Group-

1st row: L-R

Fleur Cox, Irwin Allen, Denise Dopwell, Evelyn Smith, Sylvia Clouden, Josephine DeRoche.

2nd row: L-R

Agnetta Mitchell, Cecily McDowall, Irma Iton, Patrick Prescod, Clara Prescod, Beryl Whittle.

Back-L-R

Stacy McDowall, Julian Duncan, Theo Saunders, Fred Prescod, Claire Antrobus, Thelma Cox, Ian John, Berry Cox, Ayrton Clouden, Cynthia Prescod, MarcellaAntrobus, Theodore (T.P.) Ballah, Raymond Ferdinand, Cauldric DeBique, Noel King and Jek King.

The picture was taken by Roddy Grant in 1956.

According to Pat, at the Guyana Carifesta in 1972, the Master of Ceremonies

introduced the group as The Kingstown Chorale and the name stuck thereafter.